EGO Battery Powered Lawn Mower Review
Reduce emissions and eliminate the smell, clutter, and mess of gas and oil with the EGO battery-powered lawn mower!
Since Zach and I have been married I have most of the lawn care at our house.
Initially, this was out of necessity because as a football coach his busiest seasons happened to coincide with the time our yard needed the most attention. But those chores are fine by me.
I love being outside. I love an excuse to breathe the fresh air, and there is something therapeutic about playing in the dirt.
Mowing is one of those outdoor chores that I enjoy.
The aroma of freshly cut grass speaks of robins chirping, flowers blooming, and the promise of summer. My least favorite part – is mower maintenance. Without a doubt.
Call me lazy, but I get tired of gas cans that inevitably spill on my shoe, the mower, and the floor. I have never mastered the oil dipstick and feel like a dipstick every time I try to interpret how much oil it is supposed to tell me I have left.
Sure, it looks dry. That must be why my mower is smoking – more oil!
I spend hours every year doing lawn care, and unless you are the home owner who doesn't care if your lawn looks like a jungle that may or may not be hiding dangerous animals, then you probably do too. I want simple, easy, high quality tools.
Let me introduce you to the cordless, electric, self-propelled lawn mower by EGO. Wow. First of all, this mower looks like a small spaceship and weighs in at 14,000 5 star reviews at Ace Hardware! 96% of reviewers said they would recommend this product. Add me to the list.
EGO Cordless Electric Lawn Mower Review
Cutting Power
Let's start with the basics. I feel the EGO electric mower cuts as well as any traditional gas-powered mower that I have owned. Here is my lawn before.
The grass had gotten pretty long.
This day I mowed it on the middle setting which cuts the grass blades at approximately 2.5 inches.
I tend to leave my grass a little longer because it feels softer on our feet, and I understand this is better for grass health. (Do not ask me to explain why though).
I had it on the mulch setting, and I liked that it spit the grass clippings directly down.
With my previous mowers, the extra clippings tended to scatter farther along the flower bed borders making it harder to keep the beds neat.
It has 3 settings which include – mulching, bagging or side discharge.
This is the lever to change the mower height and consequently the length of the grass. It has 5 settings from 1.5″ to 3.5″.
I keep it right in the middle on setting #3 which is approx 2.5 inches.
On another day Zach tried it out and liked how easy it was to adjust the handle as he is 6'1″ and preferred it on the higher setting.
I told Zach he may get overheated and should probably take his shirt off while I observed his mowing technique, but for some reason he felt that mowing our quarter of an acre in 60 degree weather without a shirt on was over the top. Pssh. Oh well.
Ok, starting with the basic tenet that in my humble opinion the EGO electric lawn mower cuts equal to the traditional gas-powered let's explore why this mower is in all other ways preferable!!
EGO Battery Powered Lawn Mower Review
Clean and Green
According to an article by Consumer Reports, "Electric mowers are vastly preferable to gas models because they generate no tailpipe emissions," says Simon Mui, a Li-ion battery expert at the Natural Resources Defense Council.
Compared with gas engines, which emit carbon monoxide and unburned hydrocarbons, he says, "electrics offer a lot of public-health benefits."
The article addresses other aspects of going green with electric lawn mowers that are battery powered, but practically speaking I love how the EGO electric lawn mower's maintenance is so clean.
Literally. I do not have to deal with the mess and the smell of gas and oil.
The EGO mower comes with a 56 volt 7.5 amp battery and rapid power charger that can fully recharge a depleted battery in 20 minutes and offers 60 minutes of cut time.
The EGO batteries are compatible between all of the EGO power products and chargers and the integrated fuel gauge will show you how much power you have left while you mow.
EGO Cordless Electric Lawn Mower Review
Quiet
Parents raise your hand if your child immediately needs a drink, a blanket, a different sibling, the latest episode of Paw Patrol, and a 5-course meal as soon as you start to mow?
My hand is up. "I'm sorry I can't hear you! I'm mowing!" Well, this next feature may be positive or negative depending on how you look at it.
This mower is SO QUIET. When I turned it on for the first time I thought I had done something wrong because it just sounded like a fan blowing.
The video below is an excellent overall comparison between one of the leading gas mowers and the leading electric mower (no surprise which came out on top), but start the video at 4:15 and listen to the difference between the electric mower and the gas-powered mower.
It seems silly, but I love how quiet the EGO is. It just feels like a different era of power equipment that is simpler, quieter, and easier to maintain.
I can actually hear my children yelling my name from the back porch while I am mowing. Again, I will let you decide on the positives and negatives of that feature.
EGO Battery Powered Lawn Mower Review
Easy to Start
Another mom-friendly feature is that the EGO is SO EASY TO START.
No more throwing your back out or doing the splits trying to grab the toy that was left on the lawn without letting go of the handle to avoid having to restart the machine.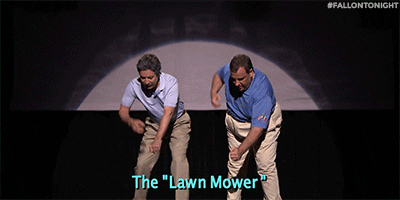 Will my kids even know the "lawn mower" move in 10 years? Probably not.
See that green button? Push that button to start. That's it. No dance moves here.
EGO Battery Powered Lawn Mower Review
Headlights
Yes, you read that correctly. This mower has headlights.
This came in handy very quickly several weeks ago. We had officially sold our second fixer upper (if you missed my post on 8 staging tips to sell your house read it here!) and had to move lots of stuff to our third fixer upper which is still under renovation at the moment!
My mom stopped in after work and wanted to try out the new mower, but halfway through it got dark. I suddenly remembered the lights, and I ran to the back and told her to stop. BAM. Headlights. She couldn't believe it.
No more wondering if that was a branch or your child's favorite toy that just got crunched during your late-night mow.
My beautiful, Momma!
EGO Battery Powered Lawn Mower Review
Compact Storage
Yes, yes, yesssss!!!! This is my FAVORITE feature of the EGO electric mower. Let me show you from the beginning.
Meet Todd, the resident EGO electric lawn mower expert at Bombergers who showed me all the ins and outs of this powerhouse lawn tool before I used it.
He showed me how the battery works . . .
. . . how the self-propel speed can go from 1.8 mph to 3.6 mph . . .
. . . how to switch back and forth between the mulching insert and the bag . . .
. . . and then, he says, "oh and you fold it like this."
Um, excuse me??
Just collapse the handle.
Fold it together.
And it can be stored like a baby stroller.
I am not sure why this amazed me so much, but I promptly forgot everything else he told me and couldn't get over the fact that my new lawnmower folded like the baby strollers I have been hauling around for the last 6 years.
I am telling you this is my favorite feature. This feature came in handy just by taking it out of the store.
Thankfully the wonderful staff at Bombergers had already assembled the machine for me, however, I am not sure how I thought I was fitting it into my van this day as it was also serving as a moving truck.
Hmm. Again, not sure what my plan was to get this guy home, but wait, my new lawnmower folds in half and won't leak fluids all over my car because, oh yeah, there isn't any smelly gas or oil needed.
So Mike, another wonderful Bomberger's employee, folded up my lawnmower again and . . .
. . . voila! I mean really. A lawn mower that fits in the passenger seat?
Yup. Can't get over it.
Where this becomes practical is when you combine the fact that it folds like a stroller and you do not need to store oil or gas cans – it creates a lot less demand for storage space. Below is what our little shed looked like with the traditional gas-powered mower.
Notice the mower, the yellow oil can above, and then two gas cans on the floor.
No more stinky gas cans and the mower easily slides under the bottom shelf. Look at all that floor space!
The other storage option is to stand it up. Either way, with the ability to fold it the footprint is reduced by about 50%.
Whew. Ok, that was a lot of info.
If you need more tips on battery-powered lawn mowers be sure to read How to Choose the Best Battery Powered Lawn Mower written by my friends at Happy DIY Home!
Click on the following links to view all of the EGO power lawn tools!
Happy mowing and hello summer!
Pin any of the images below for later!
shop my home