DIY Door Organization Station
Take command of the chaos and organize a cluttered space using the back of a door with this DIY magnetic chalkboard door organization station.
I love organizing. I was the little girl who wanted purses and bags with lots of pockets to organize all the things.
I also love de-cluttering and feel a giddy sense of relief when I throw things out. It is almost as if throwing things out gives me more room to breathe.
Once I had children, however, I quickly discovered the importance of strategically designed areas in the home for vertical organization; the most space-efficient way to get stuff off the floor.
Take stock and consider which area of the house causes the greatest sense of organizational consternation and frequently results in the unbridled chaos of backpacks, folders, jackets, and shoes. It will often be a door near the kitchen, pantry, or most any frequently used entryway.
Begin by creating a to-do list noting what you will need to store and organize, which room you will be placing the organizer in, the amount of space you have available, and what your purpose is for the space.
Whether it be a mudroom, craft room, or entryway, bring order with the space on the back of a door with this DIY door organization station that also happens to be a magnetic chalkboard!
For more storage and organization ideas be sure to check out:
DIY Door Organization Station
1. Create a Magnetic Chalkboard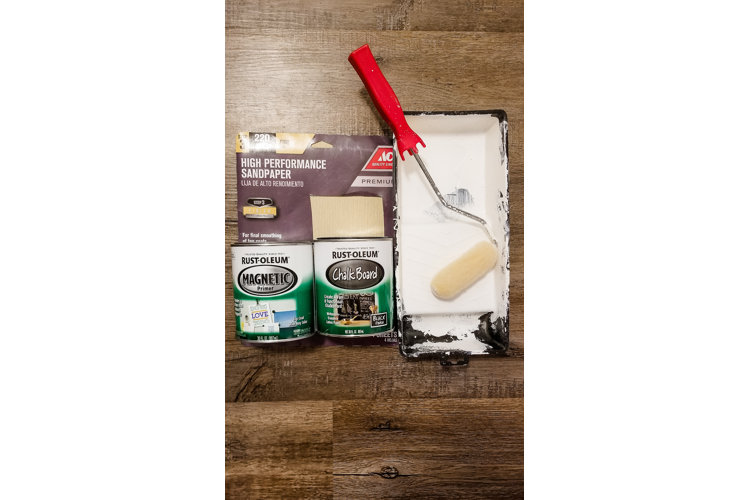 Step 1: To create a magnetic chalkboard on the back of a door: first remove any hardware, lightly sand, and then wipe down the surface.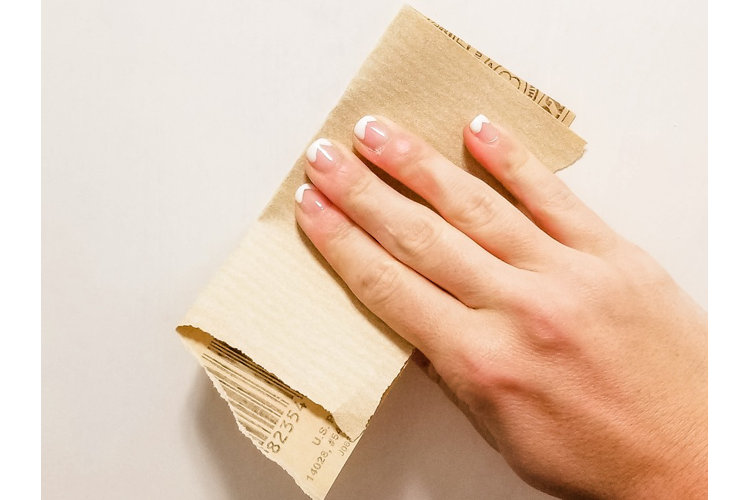 Step 2: Paint one coat of Magnetic Primer and allow it to dry according to the instructions on the label. Once dry, lightly sand with 220-grit or 320-grit sandpaper. Wipe down to create a clean surface.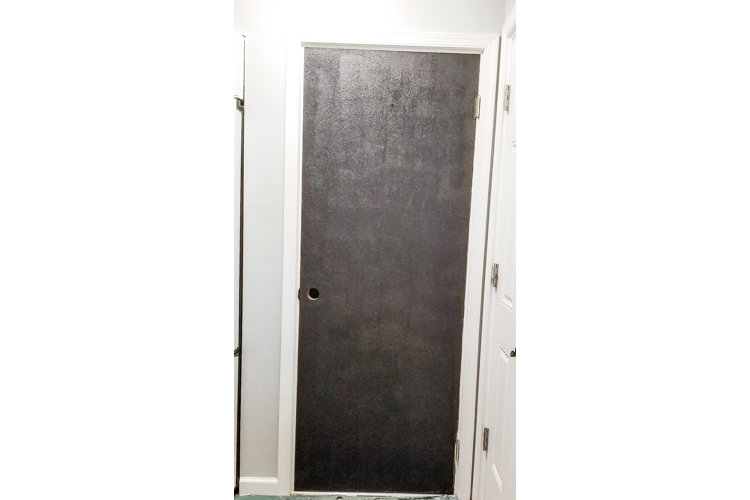 Step 3: Repeat step 2 until you have an even finish.

Step 4: Paint a third coat for maximum magnetic strength. Allow it to dry according to directions.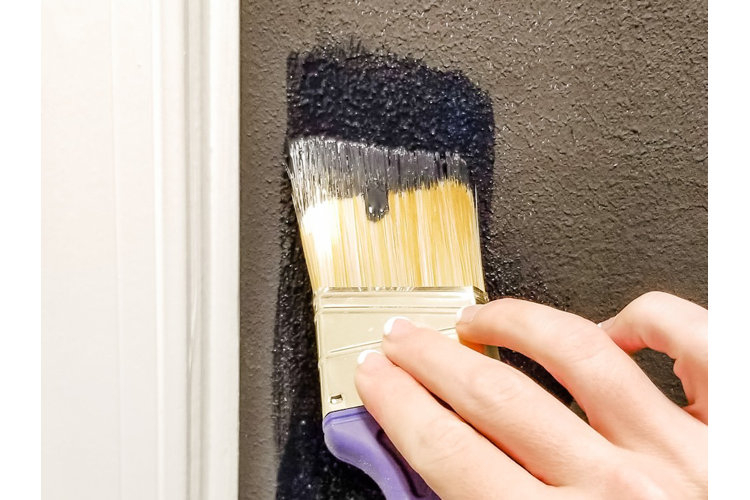 Step 5: Apply 1 to 2 coats of the chalkboard paint, and allow it to dry in between coats according to the instructions on the label.
Once complete you will have your magnetic chalkboard!
2. Hang a Whiteboard Calendar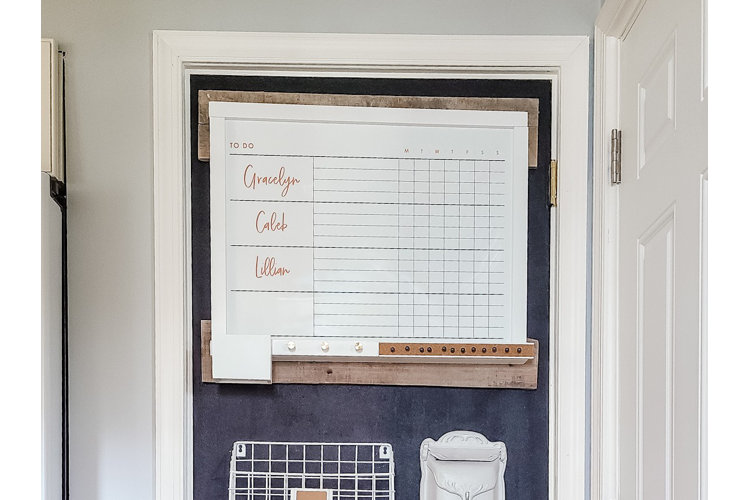 On the same door, choose a whiteboard that can be customized into a chore chart, practice schedule, grocery reminders, or reusable monthly calendar. This command center will help you stay on top of chores, appointments, and any other important dates.
3. Hang Baskets, Mailboxes, Hooks, or Shelving According to Organizational Needs.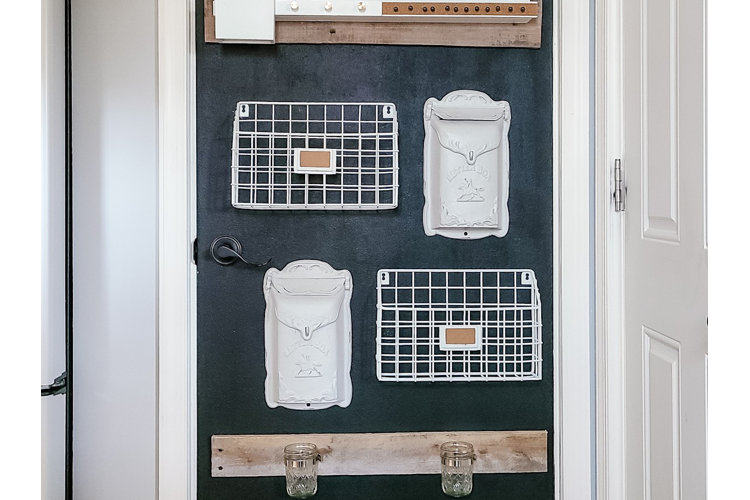 Our door included an "in" and "out" basket for the two kids who were in school in addition to personal mailboxes for allowance money and important "Mommy notes."
If you are looking to customize your own organization station, consider shelves, racks, and any other storage ideas you may have.
**Keep the depth of all hanging storage and baskets less than 4? to ensure the door will fully open.**
4. Add a Hanging Mason Jar Organizer
The addition of a mason jar is the perfect way to organize any chalk and magnets you may have. To install these you will need to do the following:
Step 1: Cut any piece of plywood or pallet wood to size, and screw it into the door while keeping it level.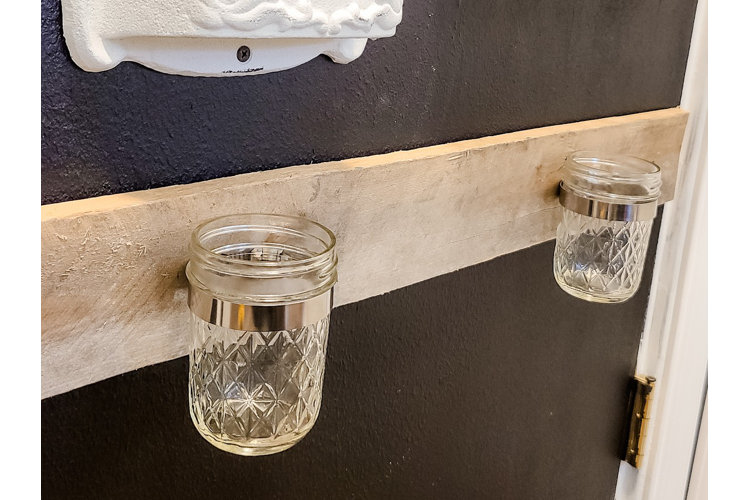 Step 2:Add a stainless steel hose clamp to each jar, and trim the excess with a wire clipper.
Step 3: Remove the hose clamps, and screw the hose clamp onto the wooden board.
Set the container into the hose clamp and tighten it with a screwdriver as needed.
5. Slatwall Panels & Pegboards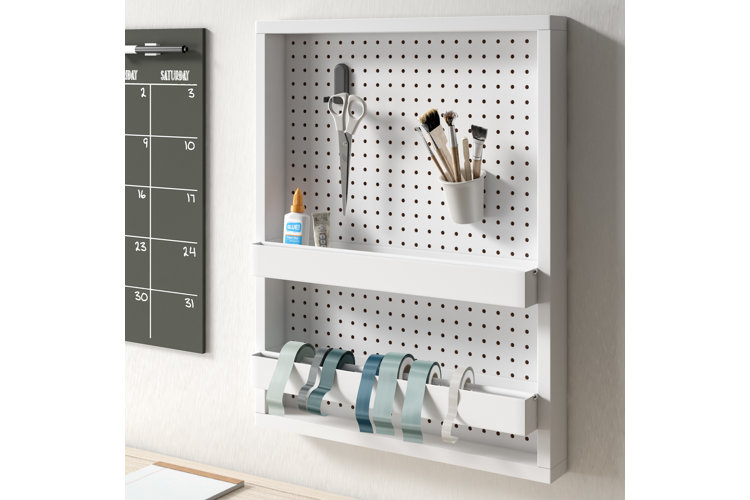 Though they may not necessarily be created for the backs of doors, slat walls and pegboards still offer a lot of storage space. The best part is how it offers modular storage that can be adjusted as you need.

To install a pegboard simply measure the board and the door to make sure it will fit. Mark and drill the necessary holes for the board and screw it in.
DIY Door Organization Station
Before
After
Happy organizing!
For more storage and organization ideas be sure to check out:
Pin any of the images below